NEW!! Wren's "Stories of Fiber" was featured in Simply Knitting, a UK knitting magazine. Check out the two-page spread now!

Wren featured in the article "The Book on Knitting," which highlights the Knit-A-Thon that Wren will appear at on March 27.

NEW!! Check Out Wren's New Blog! Stories of Fiber.com

Wren reads a chapter (A Tradition of Making Useful Objects Beautiful) from the book she co-authored with Daena Giardella, "Changing Patterns: Discovering the Fabric of Your Creativity"

Wren is pleased that her "heart warmer" shawl design is featured as part of a charitable program for the Susan G. Komen Foundation.

Read a "Wren's Greatest Knits" CD review featured on The Knitter's Review!

Listen to an interview with Wren on Craftcast Podcast with Alison Lee!

Wren featured in a knitting Pod-Cast: "It's a Purl, Man." Click to Comment on the Show!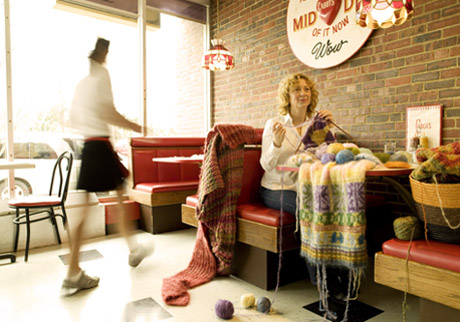 Photo from June 2006 issue of "Body + Soul Magazine"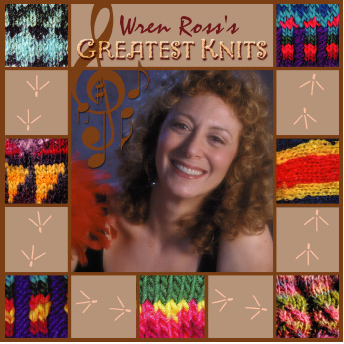 Have you ordered your copy of Wren's "Greatest Knits"?
You can read about it in the July 2006 issue of "Creative Knitting Magazine!"
Read the latest CD review on The Knitter's Review!
---
Wren Ross' and Daena Giardella's new book "Changing Patterns... Discovering the Fabric of Your Creativity": explores and celebrates the creative process and knitting as a path to self-awareness. We would appreciate your thoughts and insights about these subjects.
Click here to view our Questionnaire!

SEE PICTURES FROM THE BOSTON KNIT-OUT!

Wren Sang at the 2004 Boston Knit Out. She also modeled her "Story of Fiber" in the Fashion show. What a fun time!
Everyone was in "stitches"!!!!
Click here for more detailed information about the Knit-Out!