Questionnaire: The Creative Process and Knitting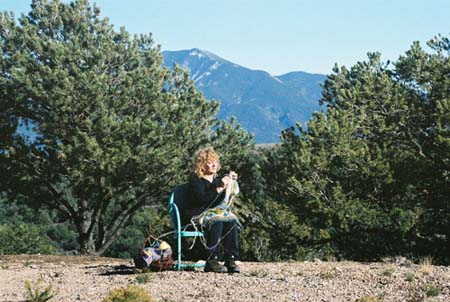 Photo by Daena Giardella
We are writing a book that will explore and celebrate the creative process and knitting as a path to self-awareness. We would appreciate your thoughts and insights about these subjects. Please take a moment and answer these questions. We will not publish your answers. We will use them for our own reference to better understand your creative process and what we refer to as "Knitter's Mind."
Don't feel like using the online form? Don't use e-mail software such as Microsoft Outlook or Netscape Mail?
Download the Questionnaire and fill it our at your leisure and fax or e-mail to us. (pdf)
Knitter's Mind:
Anyone who loves and works with fiber knows how truly satisfying it is to knit. The boundless imaginative ecstasy, the joy of colors, the sensual reassurance of touch and the quiet steadfast stitch repetitions create a deep meditation. And of course, the pleasures of making something beautiful are just some of the delights known to knitters. Sometimes, when working on a long stretch of stockinette, garter or a repetitious pattern, we find a fuzzy state that is "Knitter's mind." For me, it is a rare, peaceful frame of mind where I don't think. I just flow with the needles and yarn. I don't make "to do lists" in my head. I don't have strong emotions. I find a calm sanctuary in my otherwise busy mind.
I guess "knitter's mind" is what hooks me on knitting. Makes me high. It is cheaper, safer and more productive than any other addiction!
-Wren Ross