Your Creative Fiber... A Workshop with Wren Ross
The Next 2-Part Workshop Meets:
WHEN: Thursday Nights -
June 15 & 22, 6 - 9 pm
WHERE: Watertown, $130
Class size is limited so early registration is recommended!
Click Here to Register for this workshop!
Phone: 617.924.SING (7464)
E-Mail: wren@wrenross.com

Your Creative Fiber...

Part I: Telling Your Story
While fiber-loving hands are fast at work, our minds are filled with images, ideas and creative impulses. As anyone who has been a member of a knitting, crochet or weaving circle can confirm, lots of stories, anecdotes and colorful conversation pours forth – as we work our yarns, we are spinning our stories.
Using a variety of story telling, meditation, free writing and improvisation techniques, we will find imaginative and dynamic ways to tell our unique stories so that we may discover the patterns, symbols and images that have meaning in our lives. We will also begin to study the symbols of various cultures and how they relate to our own iconography. This will be an opportunity to find more insight, freedom and confidence in your creative expression. It also promises to be a lot of fun!
Part II: Wearing Your Story
This part of the workshop uses the symbols, colors, and patterns emerging from the stories told in Part 1: "Telling Your Story" to design your own "Story of Fiber." Wren will show you how to put your personal symbols into a unique garment that is meaningful to you.
This workshop is open to anyone who knits, weaves, crochets, sews,
quilts or embroiders.
"The workshop was great! I haven't enjoyed something so much in longer than I can remember. Thanks again for your insights!"
- Kathy Vaught-OhEigeartaigh
Singer/Knitter/Curriculum Director
For information about classes on how to make a "Story of Fiber" coat or if you want to commission a unique "Story of Fiber" coat for yourself call Wren at 617-924-SING (7464) or email: wren@wrenross.com.
For information about the book that Wren co-authored with Daena Giardella, Changing Patterns: Discovering the Fabric of Your Creativity, visit the website: creativityinlife.com. Changing Patterns invites readers use the creative process as a tool for self-discovery, fulfillment, and change. It helps people find ways to overcome the patterns that keep them from being creative in order to live a more meaningful life.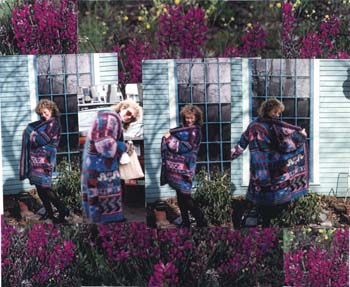 Wren on Stories of Fiber...
Fourteen years ago, I started knitting floor length coats that chronicle my life. I call them "Stories of Fiber." I love stories. As an actor, I find plots, biographies, and character studies fascinating. As a singer, I strive to find the event in a song. As a knitter, I love to knit textile diaries using symbolic icons, motifs, number patterns, and colors.
The word text comes from textile––the weaving of words. We call a story a yarn. For centuries, human beings have woven, sewn, and knit their personal symbols into fiber to tell their stories. From Helen of Troy weaving the tale of the Trojan horse, to the Hmong women of Cambodia relaying the saga of war and escape to the United States through woven picture cloths people have used color and shape to communicate visions of their reality. Coats, shawls, scarves, jackets, ponchos, or blankets can be great canvases for our stories.
Knitting a "Story of Fiber" is a personal process whether I knit for myself, someone dear to me, or for a client who has commissioned a garment. Choosing the symbols requires me to be awake to life and pay attention. I delve into dreams and intuition. I find insights through observation. I have to unearth what is essential to each person: What does she love? How does she live? What fills her mind? I need to find symbols associated with her life situation. Then I have to research and learn about the symbols, which are ancient tools and powerful teachers of wisdom.
I have a friend who often dreamed about bears. When knitting her a jacket, I placed a bear on her sleeve. Later I discovered that bears are symbols of the unconscious. My friend is a Jungian analyst working with deeply subconscious themes. The fact that I placed the bear on the left sleeve was also noteworthy because the left side of the body has to do with receptivity and being open to dreaming and intuition.
Often, the knitting will be my teacher. Some years ago, I was knitting myself a coat that described the time my ten-year marriage ripped apart. My new freedom was at times euphoric, so I depicted two tap dancers sporting hats and canes on a sleeve. It was a complicated pattern with many colors and repetitions. When I was done with the dancers, I noticed they each had one extra stitch on their feet. It appeared they had deformed feet. The prospect of ripping out a large section of fuzzy, entangling mohair seemed daunting, and I left the "mistake" in. But as I pondered the sleeve, I realized this was no error. This was the true picture of my life at the time. I was just learning "how to dance" in my new single life and honestly, I was a little clumsy: I was dancing in spite of my clubfeet.
It's a powerful, sometimes life altering experience to make and wear these "wearable altars." In our often frenzied and sometimes disconnected and alienating world, the thread of this storytelling tradition may be a new ritual of self-discovery. The knitting becomes a diary, mirror, and a therapist that reflects our story. Living in a "star-struck" culture, we often forget to be our own fans. Stories of Fiber projects help us discover and appreciate who we are and what's important to us. Contacting our individual iconography and metaphor awakens us to the idea that we're unique and also part of a universal tapestry. It is a process that enables us to find more meaning and poetry in our day-to-day lives. Our "Stories of Fiber" may become a new skin of beauty, self-love, deep insight and compassion.
Telling one's story and then wearing one's story will continue the narrative when we don the garment. When I wear my coat in public, people will often ask me what each symbol represents and before you know it, new stories are being spun in our dialogue together. I welcome you to this adventure.