Wren Ross is a singer who has found her "Knit-ch!!"
Singing with Every Fiber!
Join Wren Ross as she celebrates the delights and dilemmas shared by fiber artists, knitters, crocheters, weavers and the people who know and love them. This lively cabaret "Singing With Every Fiber!" is full of songs,and stories that reflect our remarkable yarn loving culture. Wren brings her passion for fiber together with her twenty-five years of professional acting and singing experience to make a performance that is unique, fun and memorable!
For booking and more information call 617-924-SING or e-mail Wren Ross at wren@wrenross.com.
Photos from the New York Knit Out - Fall '03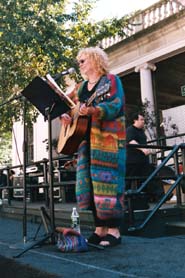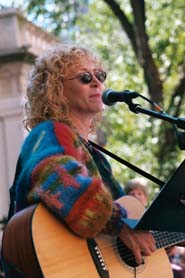 "I can't say enough how much I appreciated Wren's coming to Knit Out. Her performance is polished, professional, inspiring, wonderful."
-Pam Allen: Editor Interweave Knits Magazine
"Wren's songs were enthusiastically received by thousands of New Yorkers in attendance. She combines it all- a beautiful voice, clever and witty lyrics and she is a wonderful KNITTER!"
-Mary Colucci- Executive Director, Craft Yarn Council of America, And the coordinator of the New York Knit-Out
---
Wren Performing One of Her Hilarious Knitting Ditties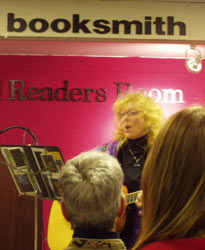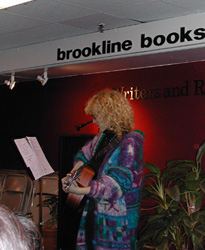 "Wren Ross is delightful! her wonderful songs added so much to the reading/book signings of "Knit Lit"!
-Linda Roghar, Editor "Knit Lit; Sweaters and their Stories"
"...a strong voice and sure stage presence."
-The Boston Globe
---
Hear more of Wren's beautiful voice on...