Wren's Greatest Knits
Be the first to get a copy of this delightful CD that is full of songs and tributes to the special joys of fiber. Some of the songs included are "Ba Ba Blacksheep" (a bluesy version about a yarn addict for whom three bags of wool is NOT enough!) and "After the Ball is Over" (After the Skein is Done) and lots more! Wren's voice is glorious and she finds lots of warmth and humor in every song.
Come hear Wren sing songs from her "Greatest Knits!" CD. (mp3 File)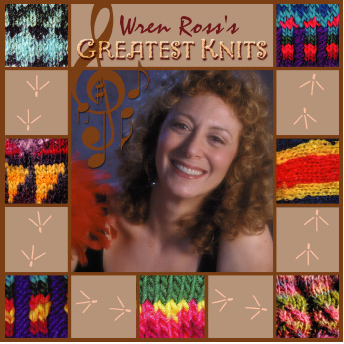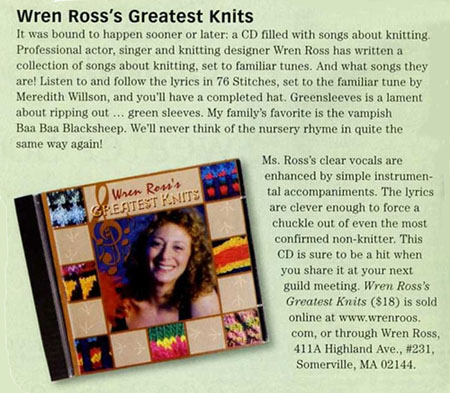 This review featured in "Creative Knitting" - July 06 Issue...
---
Also, check out the latest CD review on The Knitter's Review!



"In addition to being a singer, actor, and voice-over artist, Ross is a seasoned knitting author and designer. She knows firsthand about the glories and frustrations of knitting, and she recounts them perfectly in song." Read More...
---
Purchase Your Copy Today!
Wren's "Greatest Knits" CD is $15 + $3 Shipping/Handling
Buy Secure Using PayPal
or send a check or money order for $18 -includes S&H to:
[International rates are $22 includes S&H]
Wren Ross
411A Highland Avenue - #231
Somerville, MA 02144
Wren's Greatest Knits CD may also be ordered through the wonderful Wool Connection catalogue. Visit their store in Avon Connecticut, get their catalogue, or order on line by going to http://www.woolconnection.com.
---
Here's what people are saying about Wren's Greatest Knits!
"I can't say enough how much I appreciated Wren's coming to Knit Out. Her performance is polished, professional, inspiring, wonderful."
-Pam Allen: Editor Interweave Knits Magazine
"Wren's songs were enthusiastically received by thousands of New Yorkers in attendance. She combines it all- a beautiful voice, clever and witty lyrics and she is a wonderful KNITTER!"
-Mary Colucci- Executive Director, Craft Yarn Council of America, & coordinator of the New York Knit-Out
"What fun! Such a pretty voice!"
-Melanie Falick, author, Knitting in America Kids Knitting
"In combining her love of knitting and talent for singing, Wren Ross brings a jazzy twist to such classics as Baa Baa Black Sheep."
-Ann Budd, Managing Editor, Interweave Knits Magazine
I really love this CD. Wren's voice is superb the lyrics are a hoot. This is a CD that is loaded with humour, but of course Wren's a knitter. Get ready to laugh out loud, and the crowning touch so to speak is a pattern for a hat! Wren Ross's Greatest Knits belongs in every knitters stocking this Christmas.
-Celeste Culpepper, Knitwear Designer
"Wren's Greatest Knits CD is musical motivation for knitterly inspiration."
-Nancy Johnston, Fiber Person, Leechburg, PA
" With a soothing voice, clever, humorous lyrics, and a variety of musical styles, Wren presents the spirit of knitting for all to enjoy. She makes you laugh, and she makes you wish for more. I cannot think of a better gift for a knitter. "
-Jane Lippmann, Avid Knitter
"...a beautiful creation. It is unexpected and surprising to take a folk song approach to what are torch songs. The result is so unusual that it not only takes you by surprise, but makes you listen to the songs in a new way. A lovely voice: gentle, sweet, charming, winning, enticing." -Michael Shurtleff, Former casting director for David Merrick, Bob Fosse, Jerome Robbins and Peter Brook